Born From Invincible
Our daring and dependable DNA has been passed down for generations. It's grown in strength, explored every continent, and conquered impossible obstacles. Now it's time for the latest evolution of our fearless legacy. Introducing the all-new 2022 Tundra. Our most powerful, most capable and most advanced body-on-frame truck ever. Arriving December 2021. 141
Gallery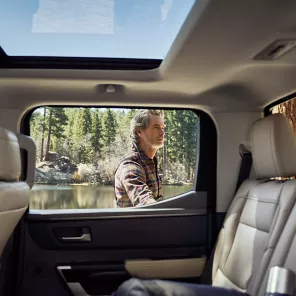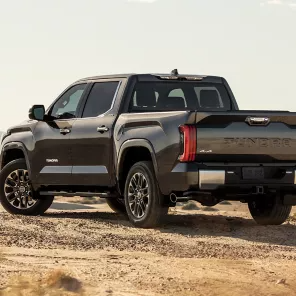 Specs
437 HP/583 Lb.-Ft.
i-FORCE MAX

389 HP/479 Lb.-Ft.
i-FORCE
12,000 Lbs.145
Max Towing
Performance
Powerful i-FORCE Engines
Tundra's available i-FORCE 3.5L twin-turbo V6 engine and i-FORCE MAX 3.5L twin-turbo V6 hybrid engine both deliver incredible power and remarkable efficiency.
Rugged Body, Frame and Suspension
Using lightweight, high-strength materials to keep weight down and a new multi-link rear suspension, Tundra moves down the road with rugged agility.145
Advanced Off-Road Technology
Bring on the rocks, mud and sand. With available Multi-Terrain Select (MTS) and Crawl Control (CRAWL)154 technology, Tundra doesn't let obstacles get in the way of a good time.146
Groundbreaking Towing Technology
Using sensors and cameras, Tundra's driver assistance technology helps you easily connect your trailer and keeps it in a straight line as you back up.
Interior
Panoramic Moonroof
With just the push of a button, Tundra's available panoramic moonroof opens up to give you a glimpse of the big, wide world waiting to be explored.
Tailored Cabin
Tundra's premium interior features available leather-trimmed and soft-touch materials throughout—and available heated/ventilated front seats—for maximum comfort on wild rides.
Power Vertical Rear Window
A signature Toyota feature. Tundra's rear glass raises and fully lowers with the push of a button, making it easier to grab your gear—or give your four-legged friend a better view.144
Multimedia
14-In. Audio Multimedia Touchscreen
A big upgrade. With one of the largest multimedia touchscreens available in its segment,158 Tundra lets you see, control and connect to your tech like never before.
Wireless Smartphone Compatibility
Wireless Apple CarPlay®159 lets you safely use your favorite iPhone®148 apps as you drive. Or you can wirelessly connect your Android™105 smartphone to enjoy Android Auto™ 155 compatibility on your next adventure. 152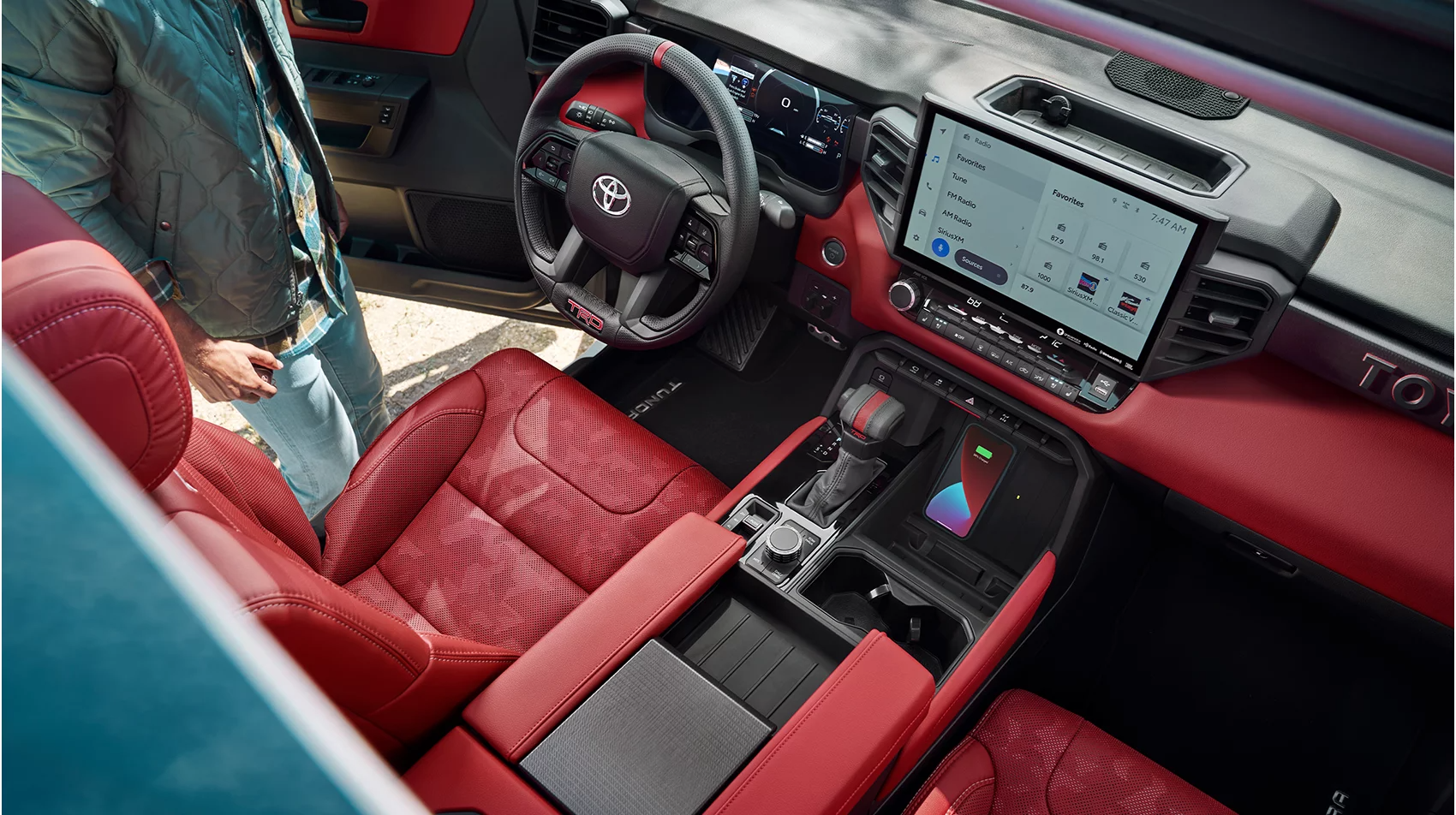 TRD Pro
[*] Unique TRD Pro Grille With Integrated Light Bar
When you see those six letters underlined by an integrated LED light bar on the grille, it reminds everyone that Toyota is still king of the off-road.146 [*] All-Terrain Tires With TRD Pro Wheels
TRD Pro;s strong and lightweight 18-in. BBS®147 forged alloy wheels come wrapped in Falken Wildpeak all-terrain tires for enhanced off-road traction.146 [*] FOX® Off-Road Shocks
Off-road performance. On-road stability. Whether you're rock-crawling, ripping through the desert, or driving home from a family road trip, Tundra TRD Pro's suspension features rugged FOX®142 shocks that are designed to deliver the optimal ride for any terrain.146
Equipped for Adventure
The all-new Tundra TRD Pro is built for the great outdoors. Featuring 18-in. BBS®147 forged alloy wheels wrapped in all-terrain tires, an off-road suspension with FOX® shocks, and a TRD aluminum skid plate—this truck fears no trail. And with Multi-Terrain Select (MTS) and Crawl Control (CRAWL)154 standard, TRD Pro doesn't let obstacles get in the way of a good time. Take hold of the reins and get ready for unforgettable adventures. 141 146
Safety
Blind Spot Monitor With Trailer Merge Warning
Tundra's Blind Spot Monitor (BSM)149 is designed to warn you when a vehicle in the next lane enters your blind spot on either side of the vehicle. When you engage Toyota's Integrated Trailer Brake Controller (ITBC)157, the system automatically senses there's a trailer connected, estimates its length and activates Trailer Merge Warning—all without any input from the driver. And when you're reversing out of a tight spot, Rear Cross-Traffic Alert (RCTA)150 helps detect vehicles approaching from either side, warning you with side mirror indicators and a warning tone. Altogether, Tundra's advanced safety technologies bring added peace of mind to every journey. Simulation shown.145
Toughness is in Our DNA
The All-New 2022 Tundra
The next generation is here. Uncompromising power. Terrain-tackling capability. Advanced towing technologies.145 The all-new Tundra is a force to be reckoned with.
Ironman Stewart's Baja Truck
This '90s-era Baja truck was built for Ivan "Ironman" Stewart, the most decorated off-road racer in history. Carbon-fiber and Kevlar®153 body. Hand-built aluminum chassis. Forty-eight inches of combined travel suspension between the front and rear. And the winner of four Baja 500 races and one Baja 1000. This legendary off-road icon is a daredevil in every detail.
'80s 4Runner
According to legend, a dealer in Wisconsin put a removable fiberglass canopy on a Hilux, and the 4Runner was born. Toyota took note and started to put them into production in 1984. "Four-wheel drive" and "off-road runner" combined to become "4Runner," which for the first time married the rugged mechanics of a pickup with the creature comforts of a passenger vehicle. By 1987, the 4Runner had switched to independent front suspension and introduced an all-new V6 engine for the first time. And the rest is history.
Endeavour Tundra
In 2012, a Toyota Tundra successfully towed the space shuttle Endeavour—at a combined weight of nearly 300,000 pounds—across a bridge spanning the nation's busiest freeway. After finishing its tough 12-mile journey, Tundra safely brought Endeavour to its new home at the California Space Center—proving its strength to the world.156
'60s Troopy
The longest modified Land Cruiser ever made. A legendary 3B diesel workhorse, the BJ45 Troopy was designed to carry 13 troops and their gear across almost any terrain. It's also been known to moonlight as an ambulance in remote areas around the world. The gasoline variant, the FJ45 Troopy, improved the vehicle's universal appeal, making it famous around the globe.
'90s FJ
Preceded by the iconic Land Cruiser 70 series, FJ75 follows a path right back to 1957 and is known for its legendary strength, rugged looks and utilitarian features. From the Bass Strait pipeline projects in Australia to the roughest rural, mining and construction sites around the world— FJ75 1991 is an uncompromising workhorse you can always count on.
Disclaimers
105. Android is a trademark of Google, LLC.
141. Model shown available March 2022; other models available December 2021.
142. FOX is a registered trademark of FOX Factory, Inc.
144. Payload Capacity is the calculation of GVWR minus curb weight and should be used for comparison purposes only. The maximum amount of passenger and cargo weight your vehicle can carry is the Load Carrying Capacity indicated on the label(s) on the driver's doorjamb.
145. Before towing, confirm your vehicle and trailer are compatible, hooked up and loaded properly and that you have any necessary additional equipment. Do not exceed any Weight Ratings and follow all instructions in your Owner's Manual . The maximum you can tow depends on base curb weight plus the total weight of any cargo, occupants, and added vehicle equipment. "Added vehicle equipment" includes additional standard/optional equipment and accessories added by the manufacturer, dealers, and/or vehicle owners. The only way to be certain of your vehicle's exact curb weight is to weigh your vehicle without passengers or cargo. [Calculated with the new SAE J2807 method.] Installation of a tow hitch receiver or other accessories located near the rear bumper or side-door kick sensors may require disabling or removing the kick sensor, and the sensor operation setting in your vehicle should be turned off. See Owner's Manual for limitations.
146. The Toyota model or models shown are designed to meet most off-road driving requirements, but off-roading is inherently dangerous and may result in vehicle damage. Toyota encourages responsible operation to help protect you, your vehicle and the environment. Seatbelts should be worn at all times. Do not allow passengers to ride in cargo area.
147. BBS® is a registered trademark of BBS of America, Inc.
148. iPhone® is a registered trademark of Apple Inc. All rights reserved.
149. Do not rely exclusively on the Blind Spot Monitor. Always look over your shoulder and use your turn signal. There are limitations to the function, detection and range of the monitor. See Owner's Manual for additional limitations and details.
150. Do not rely exclusively on the Rear Cross-Traffic Alert system. Always look over your shoulder and use your mirrors to confirm rear clearance. There are limitations to the function, detection and range of the system. See Owner's Manual for additional limitations and details.
152. Screen depiction accurate at time of posting.
153. Kevlar® is a registered trademark of E. I. du Pont de Nemours and Company.
154. Crawl Control is designed for driving on difficult terrain at low speeds and assists the driver by controlling acceleration and braking, allowing the driver to focus on steering. See Owner's Manual for additional limitations and details.
155. To wirelessly use Android Auto™ on your car display, you need a compatible Android™ smartphone with an active data plan. You can check which smartphones are compatible at g.co/androidauto/requirements. Android Auto™ is a trademark of Google LLC.
156. The 2012 Tundra CrewMax 5.7L V8 is towing far beyond its published towing capacity in a one-time, short-distance event. Never tow beyond a vehicle's published towing capacities. See Owner's Manual for details.
157. Integrated Trailer Brake Controller is an electronic system that operates in tandem with a trailer equipped with an electric braking system. It is designed to help the driver maintain trailer control by increasing or reducing trailer braking based on trailer weight. It is not a substitute for safe towing practices. Factors including speed, weather, road conditions and driver input can all affect trailer braking control. See Owner's Manual for additional limitations and details.
158. Based on manufacturers' data.
159. Apps and services are subject to change at any time without notice. Data charges may apply. Apple CarPlay® functionality requires a compatible iPhone® connected wirelessly to the vehicle. Apple CarPlay® is a registered trademark of Apple Inc.